Each year that we are graced with life, there will be both good days and bad.
But have you ever had one of those years, dear wife, when nothing good seemed to happen and you couldn't wait for it to end?
It might not be real tragedies you were facing, just the soul-dragging hardships and one-after-the-other disappointments that plague us all.
Our year was 2013. We've had worse years, but this one left an impression that has stayed with me.
Our Year of Drought
Mighty Man's work had dried up. With little income, even thrift store prices were too steep.
If something broke (and what doesn't, nowadays) there was no likelihood of its replacement. Home-improvement plans were once again out of our reach.
Each day our needs piled higher than my ever-growing laundry mounds.
My truck sat with four rotting tires and no insurance. Any hope of activities away from home were nil.
Even my garden, a tiny spot I'd carved out of my junkyard surroundings, could not make me smile. My tomatoes failed, worms stunted my rosemary and sage, and the flowers I yearned for to brighten my day withered before they bloomed.
That summer, Paper wasps invaded our life and killed our dog.
Their nest locations remained a mystery, but every day thousands flowed back and forth, like an angry river, through our back patio. My son and I were both attacked twice, and Mighty Man seven times.
And before the year was up, a family friend of more than twenty years betrayed us.
We were desiccated emotionally, physically, and financially.
But as the year finally came to a close, I realized something astounding: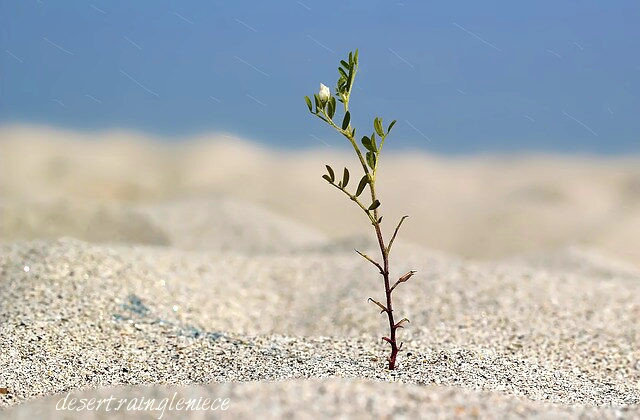 Our year of drought was actually a blessing.
Not having what you need pushes you to reevaluate what is truly needed.
Expectations are taken apart and closely examined.
Long-held beliefs of How Things Should Be give way to God-breathed solutions.
I could have easily griped and complained (something I did most readily in past years).
I could have subtly blamed my husband for our stressful circumstances (another thing I did most readily).
But that would have allowed the Enemy yet another victory in my life.
Instead, I chose to fully trust that God had a reason for what we were going through.
I grasped my husband's outstretched hand and we banded together—husband and wife—against these attacks.
We chose to view these difficulties as areas to grow spiritually, areas to conquer our frustrations, expectations, and wantonness.
Satan, like the river of wasps on our porch, tried to attack our faith with repeated disappointments and our patience with constant annoyance.
He tried to unseat our joy with the sting of want. But he failed.
Christ drowned the adversary of our souls with His living water.
But whosoever drinketh of the water that I shall give him shall never thirst; but the water that I shall give him shall be in him a well of water springing up into everlasting life. John 4:14
Our physical hopes were as dry as the desert floor, but because we drew from the well of this Living Water, there was a spiritual cascade of thankfulness, patience, peace, and joy.
As a wife, it is especially difficult when your good days are few and the downright awful days turn into weeks or even months.
But what is even more difficult, is trying to manage these dry spells without the closeness of your spouse and the drenching of God's Spirit.
Two are better than one; because they have a good reward for their labour.

For if they fall, the one will lift up his fellow: but woe to him that is alone when he falleth; for he hath not another to help him up.

Again, if two lie together, then they have heat: but how can one be warm alone?

And if one prevail against him, two shall withstand him; and a threefold cord is not quickly broken. Ecclesiastes 4:9–12
God has given us wives the perfect companion to help in the droughts of life we face—our husbands.
And when the Spirit of God intertwines a husband and wife with His grace, faith, power, and strength, this braided, three-strand cord can withstand anything.
Each year you will face trials, dear wife.
It may be as simple as dead flowers, or more harrowing as wasp attacks, broken trucks, and betrayals.
But as you hand over every frustration to God, grip your husband's hand tightly and seek God's will through it all.
And the peace of God that passes all understanding will refresh your dry places with everything you need.
Be careful for nothing; but in every thing by prayer and supplication with thanksgiving let your requests be made known unto God.

And the peace of God, which passeth all understanding, shall keep your hearts and minds through Christ Jesus. Philippians 4:6–7
Abiding in the Vine,
~ Gleniece 
To stay up to date on all Desert Rain content, consider signing up for my Abide & Blossom newsletter for the weary Christian woman. Thank you!
Update 2017: This is another doozy of a year for Paper wasps. My husband has already gotten stung five times, and me once. And don't get me started on the ants!
Update 2018: Thankfully the wasps have not been a problem this year, but oh, those pesky ants have taken over my kitchen. Arghh!
The post "What a Year of Drought Can Teach a Thirsty Wife" was first published on Desert Rain.